December 8th, 2012
In MMA |

Comments Off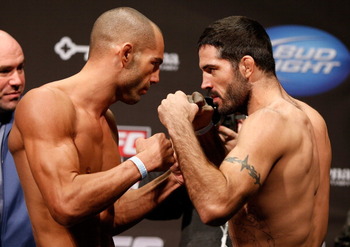 I'm sitting here at my office watching a beautiul display of Jiu Jitsu in MMA at UFC on FOX. Mike Swick is taking on the always durable, Matt Brown.
In the first round, Matt Brown gets a nice takedown and starts working from the top. He's able to secure a beautiful D'arce choke. In an interesting move, Brown falls to full guard in an attempt to finish the submission. On one hand, pulling guard with this move can control the opponents hips, not allowing them to get distance away from the choke. On the down side, it can take the leverage, and the ability to put your weight down from the top, into the choke. Swick, understanding his advantage, and ends up keeping Brown flat on his back. Brown is unable to get any torque from that position. He's not able to get his weight on top of Swick's head. If he could do so, forcing the chin to the chest, that could cut off the air, and the blood to the brain. Swick is then able to pull out of the choke and end up on top.
Continuing from guard, Brown now starts fishing for wrist control, looking for a triangle. He is able to force Swick's arm through his leg, achieving the arm in/arm out position. From here, Brown is able to lock in a full on triangle. This is not a new set up, this is old school BJJ at it's best. The advantage is, in MMA, when an opponent choses to throw strikes, they take their arm off their body, giving the bottom player the ability to control it.After the choke is in, Swick does an awesome job of defending. Knowing that Brown has to pull the head down and squeeze the legs together in order to finish him, he quickly throws both legs over Brown's body to give him leverage to break the hold. As Swick extends his hips, and Brown is forced to let go. In an attempt to counter, Swick transitions into one of trademark moves, guillotine aka the "swick-o-tine" off the scramble. He' wasn't able to lock the hands together and finish. The lock is broken, and the round ends
Matt Brown goes on to K.O.'s Swick standing in the following round with a devestating combination, but it was a really exciting grappling match while it was on the ground. We'll played sirs!
Alder Hampel
Head Coach 10th Planet Van Nuys
www.10thPlanetVanNuys.com